Recent events... Un poco de historia… Um pouco de história... Ein wenig Geschichte… Un peu d'histoire...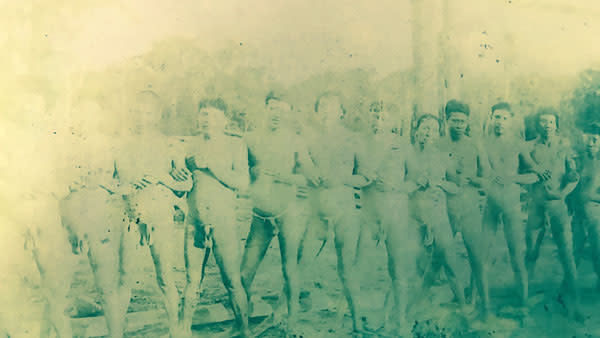 [English] The history of our people is interrupted by slavery, the attempt of "evangelising" our culture and by the loss of our natural habitat due to the industry's greed in exploiting the natural resources that belong to everyone.
The Amazon is not our land, it is the whole of humanity's land. Thanks to it, everyone breathes and we get rain all over the planet.
In 1993, there were just ten people left in our town who spoke our original language. Thanks to the hard work boosted by the young people of the town, we have been able to recover our language, our culture and our traditions. Now, there are 380 children and young people studying in our community school.
We want to dedicate this CD to all the children in our town, and by extension, to all the children of the world.
In May 2016, we went to Barcelona and Amsterdam on tour to give chats, conferences, ceremonies and healing songs.
On this trip, the Guardians de l'Amazónia, La Maloka, and "Yuri" La Encantada associations offered us both the possibility to record in a professional studio and the fundamentals for the musicians that will form part of this album: singing and playing in Portuguese and our language.
[Español] La historia de nuestro pueblo se ve interrumpida por la esclavitud, el intento de "evangelizar" nuestra cultura y por la pérdida de nuestro hábitat natural por la voracidad de la industria por explotar los recursos naturales que son propiedad de todos.
La Amazonia, no es nuestra tierra, es la tierra de toda la humanidad. Gracias a ella, respiramos todos y obtenemos la lluvia en todas las partes del planeta.
En el año 1993, apenas quedaban en nuestro poblado, 10 personas que hablaban nuestra lengua original. Gracias a una intensa labor de rescate impulsada por los jóvenes del poblado, hemos podido ir recuperando nuestra lengua, nuestra cultura y nuestras tradiciones. Hoy en día, en la escuela de nuestra comunidad estudian 380 niños, jóvenes y adultos.
Queremos dedicar esta CD a todos los niños y niñas de nuestro poblado, y por extensión a todos los niños del mundo.
En mayo del año 2015, realizamos un viaje a Barcelona y Ámsterdam, para realizar una gira de charlas, conferencias, ceremonias y cantos de sanación.
Durante este viaje, las asociaciones: "Guardians de l'Amazònia", La Maloka y La Encantada, nos ofrecieron la posibilidad de grabar en un estudio profesional, todas las bases para las músicas que formarán parte del CD cantado y tocado parte en portugués y en nuestra lengua.
[Português] A história do nosso povo, se viu interrompida pela escravidão, pela tentativa de "evangelização" da nossa cultura e pela perda do nosso habitat natural, pela ganância da indústria, de explorar recursos naturais que são propriedade de todos nós.
A Amazônia não é a nossa terra, é de toda a Humanidade. Graças a ela, respiramos e obtemos a chuva em todas as partes do planeta.
Em 1990, apenas 10 pessoas falavam o nosso idioma original na nossa aldeia. Graças a um intenso trabalho de resgate, impulsado pelos jovens, pouco a pouco vamos recuperando a nossa língua, nossa cultura e nossas tradições.
Hoje em dia, em nossa escola, estudam 380 crianças, jovens e adultos.
Queremos dedicar este disco a todas as crianças da nossa aldeia e do mundo.
Em maio de 2016, fizemos uma viagem à Barcelona e Amsterdã, para realizar uma série de conferências e cerimonias de sanação. Durante essa viagem, as associações:
"Guardian de l'Amazònia, La Maloka Encantada e "Yuri" La Encantada, nos ofereceram a possibilidade de gravar num estúdio profissional, todas as bases das musicas que farão parte do CD, cantado e tocado, parte em português e parte em nossa língua.
[Deutsch] Die Geschichte unseres Volkes ist geprägt von der Sklaverei, vom Versuch, unsere Kultur zu "evangelisieren", und vom Verlust unseres Lebensraums aufgrund der Gier der Industrie, die natürlichen Ressourcen auszubeuten.
Das Amazonasgebiet ist nicht unser Land, es ist das Land der gesamten Menschheit. Diesem Land haben wir es zu verdanken, dass es auf dem ganzen Planeten Atemluft und Regen für alle gibt.
Im Jahre 1993 gab es in unserem Dorf nur noch etwa 10 Personen, die unsere ursprüngliche Sprache beherrschten. Dank großer Anstrengungen der jungen Generation haben wir seither unsere Sprache, unsere Kultur und unsere Traditionen wiedererlangen können. Heute werden in der Schule unserer Gemeinde 380 Kinder, Jugendliche und Erwachsene unterrichtet.
Wir möchten diese CD allen Kindern unseres Dorfes widmen, und damit auch allen Kindern auf der ganzen Welt.
Im Mai 2015 unternahmen wir eine Reise nach Barcelona und Amsterdam, um eine Reihe von Gesprächen, Vorträgen und musikalischen Zeremonien zu veranstalten.
Während dieser Reise haben uns die Vereinigungen "Guardians de l'Amazònia", La Maloka und La Encantada die Möglichkeit angeboten, in einem professionellen Studio die Grundlagen der Musik aufzunehmen, die Bestandteil der teils auf Portugiesisch, teils in unserer Sprache gesungenen CD sein wird.
[Français] L'histoire de notre peuple a été profondément marquée par l'esclavage, la tentative d'"évagelisation" de notre culture et la perte de notre hábitat natural, auto-approprié par un monde industriel véroce et désireux de profiter des resources naturelles de notre territoire.
L'amazonie n'est pas notre terre, elle est la terre de toute l'humanité. Grâce à elle, nous respirons et recevons la pluie dont nous avons besoin sur toute la planete.
En 1993 restent seulement 10 personnes dans notre communauté qui parlent notre langue d'origine. Grâce à un grand effort de sauvetage de notre culture impulsé par les jeunes de notre communauté, nous avons pu retrouver ou préserver notre langue, notre culture et nos traditions. De nos jours, ce héritage est enseigné dans l'école de notre communauté qui compte 380 enfants, jeunes et adultes.
Nous voulons dédier ce disque aux jeunes filles et garçons de notre communauté, et par extention à tous les enfants du monde.
En Mai 2015, nous avons réalisé un grand voyage à Barcelone et Amsterdam, où nous avons donné des conférences et organisé des cérémonies traditionnes.
Au cours de notre voyage, les associations "Guardians de l'Amazònia", La Maloka et La Encantada nous on permi d'enregistrer dans un studio professionel l'enregistrement des musiques qui composent notre disque, avec des chants en Portugais et dans notre langue traditionnelle.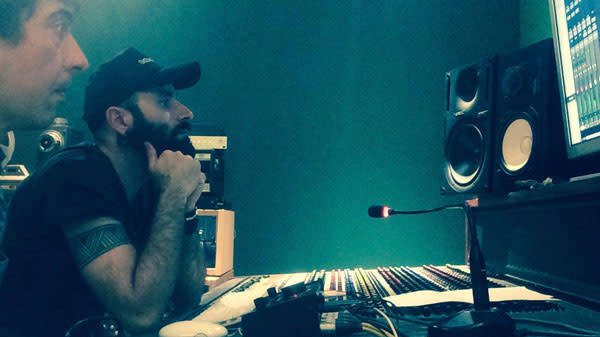 [English] During July and August, several internationally–recognised musicians, under the direction of the music producer Erico Moreira, made demos. The result is fantastic. In October and November, Erico Moreiro, Pep Cunyat and Adolf Sanz Monfort were in our village finalising the traditional CD recordings, engaging all our singers. Now it just needs for us to mix, master, design and produce it and to get it distributed to all the people who are interested in knowing about our culture and our songs.
[Español] Durante los meses de julio y agosto, varios músicos reconocidos internacionalmente, bajo la dirección del productor artístico Erico Marco Moreira, realizaron todos los arreglos musicales. El resultado está siendo sido fantástico. En los meses de octubre, noviembre y diciembre, Erico Marco, Pep Cunyat y Adolf Sanz Monfort han estado en nuestra aldea finalizando las grabaciones del CD tradicional, haciendo participes a todos los cantores y cantoras del pueblo. Ahora nos falta realizar las mezclas, masterizarlo, el diseño, fabricarlo y hacerlo llegar a todas las personas interesadas en conocer nuestra cultura y nuestros cantos.
[Português] Durante os meses de Júlio e agosto, vários músicos reconhecidos internacionalmente, sob a direção do produtor musical Érico Moreira, realizaram todos os arranjos musicais do disco. O resultado está sendo fantástico. Nos meses de novembro e dezembro, Érico Moreira, Pep Cunyat e Adolf Sanz Monfort, estiveram na nossa aldeia, finalizando as gravações do CD tradicional, fazendo com que todos os cantores e cantoras do nosso povo também participassem. Agora só nos falta realizar a mixagem, masterização, desenho gráfico e fabricação. Para assim disponibilizar o disco a todas as pessoas interessadas em conhecer nossa cultura e nossos cantos.
[Deutsch] Während der Monate Juli und August haben international anerkannte Musiker unter der Leitung des Produzenten Erico Marco Moreira die musikalischen Arrangements realisiert. Das Ergebnis ist fantastisch. Im Oktober, November und Dezember waren Erico Marco, Pep Cunyat und Adolf Sanz Monfort in unserem Dorf, um die traditionelle Musik aufzunehmen, unter Beteiligung aller Sänger und Sängerinnen des Dorfes. Jetzt fehlt uns noch das Mastering, das Design und die Herstellung der CD, bevor wir damit alle Menschen, die an unserer Kultur und unseren Gesängen interessiert sind, erreichen können.
[Français] Au cours des mois de Juillet et Aout, plusieur musiciens reconnus mondialement, sous la direction du producteur Erico Marco Moreira, ont réalisés les arrangement musicaux. Le résultat est spectaculaire.
Durant les mois d'Octobre, Novembre et Decembre suivant, Erico Marco, Pep Cunyat et Adolf Sanz Monfort se sont rendus dans notre aldea pour finaliser les enregistrement avec les chanteurs de notre tribue.
Il ne nous reste plus qu'à réaliser le mastering, ainsi que le design et la production de notre disque pour que nous puissions le faire parvenir à tous les personnes qui souhaitent découvrir notre culture et ses chants.
Come and meet us! Ven a conocernos! Venha nos conhecer!Komm uns kennen lernen! Viens à notre rencontre!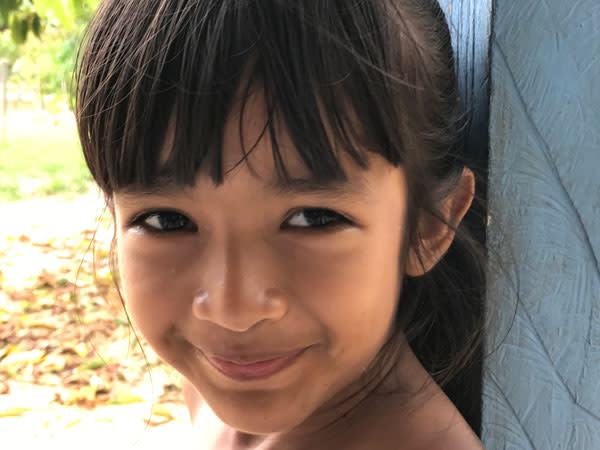 [English] If you have the chance to travel, it would be a pleasure to be able to embrace you and to share with you our way of life.
You would stay in our traditional cabins, you would eat with us and you could take part in our community and cultural activities.
Over the 14th and 16th of July 2017, we plan to celebrate our Macaxeira Cultural Festival where we will dance, sing and prepare our own food. You can come for one week or more if you wish, to prepare and to participate in this festival.
We invite you to harvest our products from the Earth (cereals, vegetables and fruits), to fish the fish that nature offers us in the micro-basin of the river Moa, and you will be able to taste the best fish in the world.
Our town guarantees the safe nourishing of the whole community without destroying the natural resources of the planet. We do not cause any deforestation in our reserve.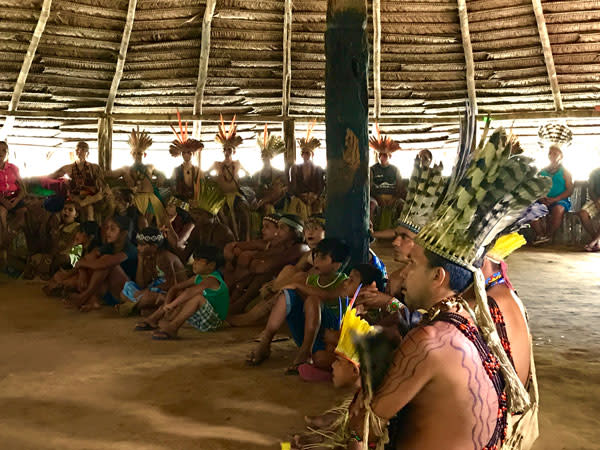 [Español] Si tienes la posibilidad de viajar, estaremos encantados de poderte acogerte y compartir con nosotros nuestra manera de vivir.
Te alojarás en nuestras cabañas tradicionales, comerás con nosotros y participarás de nuestras actividades comunitarias y culturales.
Durante los días 14 y 16 de julio de 2017 organizamos nuestro festival Cultural "A Macaxeira", donde bailaremos, cantaremos y prepararemos nuestra propia comida. Puedes venir una semana o más días si te apetece, para preparar y participar de este Festival.
Te invitamos a recolectar nuestros productos de la tierra (cereales, hortalizas y frutas), pescar los peces que nos ofrece la naturaleza en la micro-cuenca del rio Moa y podrás degustar la caza autóctona de la selva.
Nuestro pueblo garantiza la seguridad alimentaria de toda la comunidad sin destruir los recursos naturales del planeta. No causamos ninguna desforestación en nuestra reserva.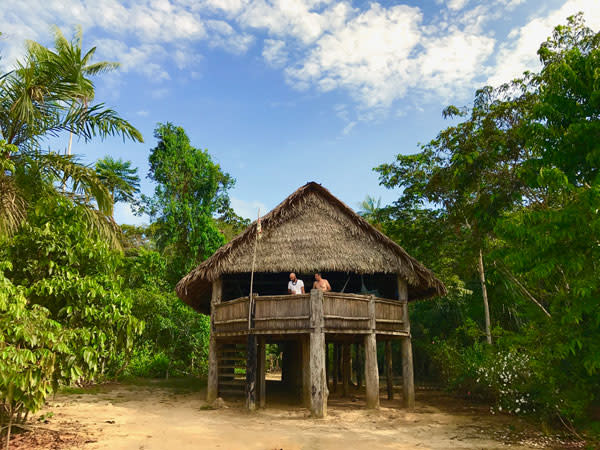 [Português] Si tens a possibilidade de viajar, estaremos felizes de te receber e compartir com você a nossa maneira de viver. Você ficará em nossas casas tradicionais, comerá com a gente e participará das nossas atividades comunitárias e culturais. Durante os dias de 14, 15 e 16 de julho de 2017, celebraremos o nosso "Festival da Macaxeira", onde dançaremos, cantaremos e prepararemos nossa própria comida. Se você quiser, pode ficar conosco uma semana ou mais dias. Te convidamos a coletar nossos alimentos da terra (cereais, hortaliças e frutas), pescar os peixes que nos oferecem a natureza no Rio Moa e poderás também degustar as caças da nossa floresta. Nosso povo garante a segurança alimentar de toda a comunidade, sem destruir os recursos naturais do nosso ecosistema. Não fazemos nenhum tipo de desmatamento na nossa reserva.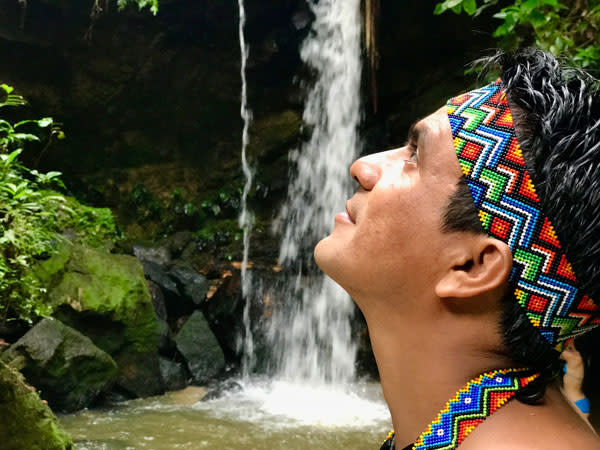 [Deutsch] Wenn du die Möglichkeit hast, zu reisen, wird es uns eine Freude sein, dich aufzunehmen und unsere Lebensweise mit uns zu teilen.
Du wirst in unseren traditionellen Hütten untergebracht sein, mit uns essen und an unseren gemeinschaftlichen und kulturellen Aktivitäten teilnehmen.
Vom 14. - 16. Juli 2017 veranstalten wir unser Kulturfestival "A Macaxeira", bei welchem wir tanzen und unser Essen zubereiten werden. Du kannst eine Woche oder länger zu uns kommen, um das Festival mit uns vorzubereiten und daran teilzunehmen.
Wir laden dich ein, mit uns zusammen unsere landwirtschaftlichen Produkte zu ernten (Getreide, Gemüse und Obst), im Becken des Flusses Moa zu fischen und die einheimische Jagd im Regenwald auszuprobieren.
Unser Volk gewährleistet die sichere Nahrungsversorgung der gesamten Bevölkerung, ohne die natürlichen Ressourcen zu zerstören. Wir betreiben in unserem Reservat keine Abholzung.
[Français] Si tu as la possibilité de vouyager, nous serons ravis de t'accueillir dans notre aldea et de partager avec toi nos us et coutûmes.
Tu seras recu(e) dans nos cabânes traditionnelles, partageras nos repas et participeras aux activités culturelles de la comunauté.
Les 14 et 16 Juillets 2017 nous organisons le festival culturel "A Macaxeira" pendant lequel se mêlent la danse, le chant et les repas traditionnels. Tu es le/la bienvenu(e) pour venir préparer et participer à ce festival!
Nous t'invitons à venir recolter les produits de notre Terre Mère (céréales, fruits et légumes), pécher les poissons que nous offre le fleuve Moa et déguster les produits de la chasse dans la forêt.
Notre peuple subvient aux besoins alimentaires de toute notre communauté sans détruire les ressources naturelles de notre planète. Nous ne faisons aucune deforestation dans notre réserve.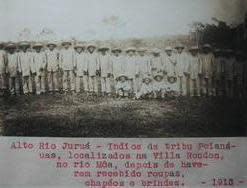 [English] The Puyanawa suffered, as well as many other towns in Acre, with the growth of the activities of the rubber operation in the region at the start of the 20th century. From the first contacts with the non Indians, many have died in confrontations or because of diseases acquired in this process. The survivors were forced to work in rubber and saw their form of life endangered quickly as a result of the methods used by the "colonels of the rubber" to keep the Indians under their yoke. The Puyanawa was stripped of their earth, instructed in Christian doctrine and educated in schools that prohibited the expression of any trace of their culture.
Only with the beginning of the process of demarcation of its land, the Puyanawa culture returned to being valued by the Indians, who have made an effort to recover their native language, not an easy task, given the reduced number of speakers.
[Español] Los Puyanawa sufrieron, así como muchos otros pueblos indígenas de Acre (Brasil), con el crecimiento de las actividades de explotación del látex y el caucho en la región a inicios del siglo XX. Desde los primeros contactos con los no indios, muchos murieron en los enfrentamientos o a causa de enfermedades adquiridas durante el proceso. Los sobrevivientes fueron forzados a trabajar en régimen de esclavitud, extrayendo caucho, además de otros muchos trabajos muy alejados de su forma de vida tradicional. Como resultado de los métodos utilizados por los "coroneles del caucho" para mantener a los indios bajo su yugo, los indios Puyanawa, fueron despojados de sus tierras, catequizados y "reeducados" en escuelas, que prohibían la expresión de cualquier trazo de su cultura.Sólo con el inicio del proceso de demarcación de sus tierras y gracias a la ayuda del sertanista Txai Macedo y el antropólogo Terri, después de décadas y con el esfuerzo de algunos jóvenes líderes de la comunidad, la cultura puyanawa está volviendo a ser valorada por los propios indios, que se están esforzando por recuperar su lengua nativa, tarea que es llevada a cabo con dificultad, dado el reducido número de hablantes vivos. Agradecemos al pueblo Puyanawa, el trabajo de auto rescate que realizan, que sirve como modelo para otros muchos pueblos, el gran ejemplo que a todos nosotros nos dan viviendo con un gran nivel de autosuficiencia y de gran respeto a la naturaleza.
[Português] Os Puyanawa sofreram, assim como muitos outros povos indígenas do Acre, com o crescimento das atividades de exploração do látex e a seringa na região, no princípio do século XX. Desde os primeiros contatos, muitos índios morreram nos enfrentamentos, e também vítimas das doenças trazidas pelo homem branco. Os que sobreviveram, foram forçados a trabalhar como escravos na extração da seringa, além de outros trabalhos alheios à sua forma de vida tradicional. Como resultado dos métodos utilizados pelos "coronéis da seringa", para manter os índios sob seu mando, os Índios Puyanawa, foram sequestrados de suas terras originais, catequizados e "re-educados" em escolas, que proibiam qualquer manifestação de sua própria cultura. Só com o início do processo de demarcação de suas terras, e graças a ajuda do sertanista "Txai Macedo" e do antropólogo Terri, depois de décadas, com o esforço de jovens líderes da comunidade, a cultura Puyanawa está voltando, pouco a pouco, a ser valorizada pelos próprios índios. Agora, estão se esforçando muitíssimo para recuperar o idioma, tarefa que enfrentam com bastante dificuldade, dado ao número reduzido de falantes vivos.
[Deutsch] Die Puyanawa-Indios waren, wie viele andere indigene Völker im Bundesstaat Acre (Brasilien), die Leidtragenden der wachsenden Gewinnung von Kautschuk in der Region zu Beginn des 20. Jahrhunderts. Seit den ersten Begegnungen mit Nicht-Indios starben viele von ihnen bei bewaffneten Auseinandersetzungen oder durch Krankheiten. Die Überlebenden wurden als Sklaven zum Kautschukabbau und zu vielen anderen Arbeiten, die nicht ihrer traditionellen Lebensweise entsprachen, gezwungen. Die Methoden, welche die "Kautschukbarone" anwendeten, um die Indios zu unterjochen, hatten zur Folge, dass die Puyanawa-Indios ihres Landes beraubt, kathechetisiert und in Schulen "umerzogen" wurden, die jeglichen Ausdruck ihrer Kultur verbot. Erst seit Beginn der Grenzziehung ihres Landes und dank der Unterstützung des Sertanisten Txai Macedo und des Anthropologen Terri wird die Puyanawa-Kultur – nach jahrzehntelangen Anstrengungen einiger junger Anführer der Gemeinschaft – von den Indios selber wieder wertgeschätzt. Sie bemühen sich, ihre ursprüngliche Sprache zurückzugewinnen, was bei der geringen Anzahl noch lebender Sprecher eine schwierige Aufgabe darstellt. Den Puyanawa-Indios ist für die Rettung ihrer Kultur zu danken, denn sie dienen vielen anderen Völkern als Vorbild und geben uns allen ein Beispiel, indem sie mit einem hohen Maß an Eigenständigkeit und großem Respekt vor der Natur leben.
[Français] Tout comme de nombreuses tribues de la región de l'Acre au Brésil, les Puyanawa ont beaucoup souffert des activités industrielles liées au latex et au caoutchou dès le debut du 20ième sciècle.
Dès les premiers contacts avec les conlons, beaucoup ont perri dans les combats ou à la suite de maladies contre lesquelles leurs organismes ne pouvaient se défendre.
Les survivants furent obligés à travailler à l'extraction du caoutchou en tant qu'exclaves, ainsi que d'autres tâches bien loins de leurs traditions.
En conséquences de ces méthodes des "rois du caoutchou" pour maintenir les indiens Puyanawa sous leur joug, ils furent expropriés des terres de leurs ancêtres, évagélisés et réeduqués dans des écoles de colons, interdisant toute forme d'expression de leur culture d'origine. Seul l'initiation du travaille de délimitation de leurs terres, et les recherches des antropologues Terri et Txai Macedo, ainsi que les efforts des jeunes leaders de la communauté on permi de récupérer petit à petit leur culture et leur langue d'origine.
Nous souhaitons remercier et rendre hommage au peuple Puyanawa pour le grand travaille de préservation qu'ils réalisent, servant ainsi de model pour de nombreux autres peuples en péril d'extinction de leur culture et pour chaqun d¡entre nous pour la manière exemplaire qu'ils ont de vivre en autosufisance et harmonie avec la nature.
https://pib.socioambiental.org/es/povo/puyanawa...
https://pib.socioambiental.org/es/povo/puyanawa